Details

Published on Sunday, 01 December 2013 12:13
Chimpanzees are highly endangered and desperately need to be captive bred to keep their genetic diversity as high as possible. Unfortunately, these animals are a lot like us in that they cannot just be thrown together without conflicts breaking out. This reality has forced primatologists at zoos to try and develop chimpanzee personality tests so that they can communicate with one another effectively as they work to build the largest breeding social groups possible without creating tensions (or worse) violence. To date, most of these personality tests have been adapted from human personality tests, but these have not worked too well. Now, a new study is suggesting a way forward that depends upon an examination of chimpanzee culture. Read on in my article in The Economist.
Details

Published on Thursday, 28 November 2013 15:14
That lots of people are narcissistic is well known, but until now, psychologists have always assumed the trait was evenly distributed across social strata. Now this is proving to be incorrect.
Across five studies a team demonstrated that higher social class is strongly associated with increased narcissism. Upper-class individuals reported far more narcissistic personality tendencies and proved more likely to behave in a narcissistic fashion (like by opting to look at themselves in mirrors) than lower-class individuals. Yet the study suggests that these people need not suffer the same fate as Narcissus who ultimately transformed into a flower by by the water's edge. When upper class people were subtly exposed to egalitarian values their narcissism decreased to a level that was on par with their lower-class peers.
The full paper by Paul Piff can be found at
JPSP
.
Details

Published on Monday, 25 November 2013 11:41
In general, top predators have not been seen to be as critical to ecosystems as the beasts at the bottom. Yet in recent years, views on this matter have started to change. Yellowstone realised its elk populations were destroying habitats and wiping out native species because their populations were no longer being controlled by wolves that had been hunted into extinction over a hundred years ago. So back came the wolves and with them, balance returned. Now the same is being proved to be true for sharks.
Swimmers and surfers may have little love for them, but a new study is revealing that in places where sharks have largely been eradicated by Indonesian fishermen over the past century, coral reef communities are suffering nearly as much as they do when damage from coral bleaching hits the community from the bottom of the food chain. The team behind the new work found that where shark numbers are reduced there is also a decrease in the herbivorous fishes which play a key role in promoting reef health. Read on in my article in The Economist.
Details

Published on Friday, 22 November 2013 08:44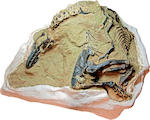 Bonhams auction house tried, and failed, to sell dinosaurs that it said was dueling. It was a total load of crap. Not the selling of the fossils (although I'm against that too) but the fact that the "palaeontologist" at Bonhams was saying the most outrageous things about the dinosaurs. I mean really, Disney would have trouble coming up with more elaborate fantasy stories. One quote that came in just as the auction fizzled, that I really wanted to use in this story but didn't because the palaeontologist was concerned about getting attacked for libel, was "The Gordon Gecko's of palaeontology have learned a valuable lesson in greed tonight!" A better statement would be hard to make about the situation. Anyway read on in my article in Nature.
Details

Published on Tuesday, 05 November 2013 11:22
Dams have lots of ecological problems associated with them. They block up sediment transfer, flood surrounding lands, halt fish migration... the list is long. The one thing that dams are supposed to be good at is producing clean energy but now even that is coming into question as a team reveals that the sediment locked behind small dams is often rich in organic material and a site of intense greenhouse gas emission.

Inland waters have long been known to be significant sources of both carbon dioxide and methane as microbes degrade organic matter. This is quite different from microbe degradation in ocean water where aerobic (rather than anaerobic) degradation takes places and produces mainly carbon dioxide. There is no question that CO2 is bad, but methane released into the atmosphere is much worse, having a global warming potential that is nearly 25 times higher.

Aware of all of this, a team speculated that organic sediment was getting stuck behind dams and, rather than moving out to the ocean where aerobic degradation would start, it was being anaerobically degraded. To test these ideas out, they evaluated the effect of damming on methane emissions in a central European impounded river. Direct comparison of river and reservoir gas levels revealed that sediment accumulation behind the dam correlated with high methane production. More importantly, their results suggest that sedimentation-driven methane emissions from dammed river hot spot sites is potentially increasing global freshwater emissions by up to 7%. Other rivers need to be explored to see if these results are consistent the world over, but if they are... eep!

Details

Published on Sunday, 10 November 2013 11:29
Bacterial films are a serious problem when it comes to implanting medical devices inside people. Even when you think a material is perfectly clean, it all too often has staph or ecoli attached - this costs lots to deal with once the infections spread and (worse) costs lots of lives. With this in mind a team wondered whether it might be possible to attach phages, that infect and kill bacteria, to the sorts of materials that are used in implants. More importantly, they wondered whether if, once these bacteriophages were attached, they would they still kill bacteria that came near? The answer is a remarkable "yes," read on in my article in The Economist.
Details

Published on Wednesday, 30 October 2013 13:20
To learn language, infants must do more than tune in to the sounds of their native tongue, they must also discover how these sounds are linked to meaning. Recent work has demonstrated that infants do this by entering a state of in-depth processing when they hear human vocalisations. More specifically, when they were presented with numerous images of dinosaurs and fish which were accompanied by either differing tonal beeps that were correlated to the differing groups (dinosaurs vs fish), differing human sounds (also correlated), or no audio at all, the infants demonstrated that they were able to discriminate between dinosaurs and fish only when they had been associated with differing human sounds. The results revealed that hearing human vocals confered an adaptive advantage by aiding infants in the fundamental cognitive process of categorisation. Intriguing as the find is, it leaves open a key developmental question: What is the developmental origin of this link?

Some have argued that the link is specific to human vocalisations from the start while others have argued that it derives from a broader template that initially also encompasses the vocalisations of non-human primates. Now a team is addressing this matter directly by running the dinosaur/fish category experiment again, but this time with a new auditory signal - lemur calls. Remarkably, children at the ages of 3 and 4 months learn to build the categories dinosaurs and fish when these images are supported by lemur screams just as effectively as when they hear human vocalisations. Read on in my article in The Economist.
Photo courtesy of IParjan.